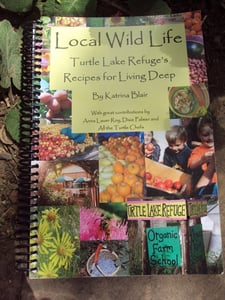 $

22.00
"Local Wild Life - Turtle Lake Refuge Recipes for Living Deep" by Katrina Blair is a 222 page recipe book on local wild, raw and living foods, published in 2009 in Durango, Colorado.
If you'd like to order the book, scroll down to the bottom of the screen and click on 'add to cart'.
This compilation of wild, local, and living food (raw) recipes is more than a recipe book. It is a journey of eleven years of a community embracing the earth's bounty. It is a celebration of health from the individual to the planet. It is an inspirational path of action back to our roots where all beings are honored as kin.
Suggested Donation: $22
*******
TABLE OF CONTENTS
1) Introduction and Philosophies
- Intentions
- Our Beginnings
- Living the Juicy Life
- The Green Juice, the First and Most Important Recipe
- The Spices of Life
- Local Fruit is Heaven Here and Now
- Wild Weeds Are Our Greatest Resource
- Permaculture Plants
- An Introduction to Fresh Living Foods
- Equipment
- A Word about Salt and Seaweed
- Becoming a Sprouting Master
- Growing Microgreens
2) Core Turtle Creations
- Tasty Turtle Rosehip Granola Bars
- Chokecherry Macaroons
- Flaxseed Crackers
- Phat Nettle Oaties
- Silent Paradise Energy Balls
- Wild Mint Magic
- Raw Cacao Fudge
- Apricot Ginger Snaps
- Pumpkin Raisin Ginger Snaps
- Sprouted Rye Breadsticks
- Homemade Dried Granola
- Turtle Ice Dreams
- Kim Chee & Sauerkraut
3) A Wild Edible Feast
- Why Wild
- Benefits of Wild Foods
- Wild Water
- Wild Ingredients
- Local Wild Life Superfood
- A Note about Osha
4) Gourmet Local, Wild and Living Food Recipes
- Drinks
- Soups
- Salads
- Salad Dressings
- Sauces, Dips, James & Cheeses
- Sun Breads
- Main Dishes
- Desserts
- A Turtle Lake Refuge Recipe for Delicious Living
- A True Success Story
5) Full Menu Plans (January through December)